Breast Implants in Singapore
Boost Your Breast Size and Have Larger and Better-Looking Breasts
Boost Your Confidence With Sexier Body
Having a sexier and curvier body can give a quick boost in any woman's confidence level. Unfortunately, not all women in Singapore have the kind of body they desire, and there are small-chested ladies who may feel dissatisfied about their physical appearance. With the help of modern technology, however, you can improve your bust size and have fuller, larger and better-looking breasts.
Through breast augmentation surgery, your bust size increases as fat is transferred to your breasts. In Singapore, there are more and more women who benefit from undergoing breast enlargement, and they are able to regain their confidence from this reliable and body-enhancing treatment process.
According to researchers, there are two common factors that reduce the breast volume among women, and these include pregnancy and weight loss. Because of such, women decide to improve the shape, volume and overall appearance of their breasts through augmentation mammaplasty. After the procedure, they notice significant improvement in their figure and image as their breasts become fuller.
It is also worth noting that breast augmentation can benefit individuals who have gone through mastectomy or injury. By defining the symmetry of breasts or augmenting with either implants or fat, enhancement of the breast is made possible. It is all a matter of knowing the clinical procedures involved with it, so you can determine what to expect afterwards.
Medical-Grade Implants to Get Larger Breasts
If what you want is significant increase in the size and volume of your breasts, then breast implants can make this happen. Improvement of the contour of your breasts is done through the placement of implants such as saline (salt water) or medical-grade silicone gel. Between the two, medical-grade silicone gel is considered as the more preferred option for implants because of the natural feel and look. Insertion of the implants is performed in a simple and easy process via a 4-cm incision (or longer), which is hidden beneath your breasts, or around the areola or armpit. There is an option to insert the implants below or above the chest muscle.
The shape, projection, width and height of implants vary. However, standard shapes include the teardrop and round implants. Also, you need to consult your doctor for the right implant size, depending on your body size and chest proportions. If you are undecided on the implants size, you can simply drop by any clinic in Singapore and try out different options on the size and shape. This way, you will have a clearer picture of how the implants look on you.
The surgical process for breast augmentation may go from 1 to 2 hours, although it still depends on the overall health and condition of the patient. General anesthesia is administered to the patient who is undergoing surgery, but there is no need for the individual to be hospitalized. As for recovery, it should take about 2 to 4 days before the patient can go back to work after surgery. During this period, ample rest is recommended, which means it is not advisable to perform physical activities that tend to strain the lower back and breasts.
It is a myth that many people thought that breast implants need to be changed every 10 years. In most cases, if there are no issues with the implants, they do not require to be replaced. Good implants can last for more than 10 years to an entire lifetime, and there are those that come with a lifetime warranty for deterioration and breakage. However, it all depends on how experienced your surgeon is, since you can expect the best results with the help of a licensed professional. There is also no need to replace your implants if there are no issues that come with them, and they should be good to last for years. Most surgeons will encourage their patients to do check-up and consultation at least once a year for as a preventative measure.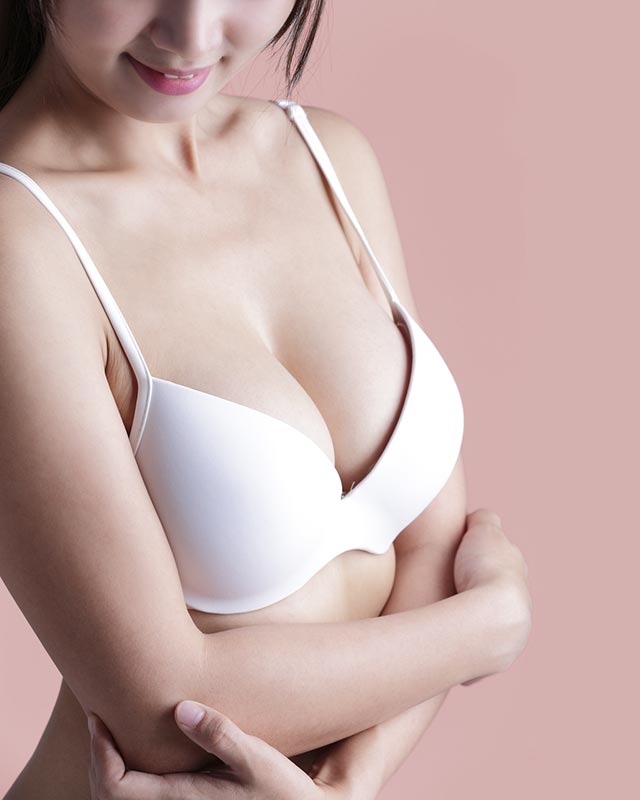 Fat Transfer for Breast Enhancement
In Singapore, fat transfer can also be done to augment your breasts. This should be a practical option for you when you want to have a moderate boost in breast volume and size. Moreover, fat transfer spares you from getting foreign objects or implants placed in your body. As long as you have sufficient amount of fat in your body, you can have this process done. For very slim women with low body fat, however, fat transfer is not recommended.
The process involves harvesting of fat from either the thigh or tummy area. Then, the fat gathered from these areas are injected through a 4-millimeter (or smaller) incisions under your breasts. Afterwards, your surgeon will inject fat in various layers of the skin surrounding your breasts, so you can achieve the fullness and shape that you want. To attain symmetry, about ml of fat is transferred to the area. However, 300 ml of fat is needed for significant enhancement of the breast shape and volume.
It should take about 2 to 4 hours for the surgery to be completed. General anesthesia can help reduce pain, and there is no need for the patient to be hospitalized. If one session is not enough for fat transfer, another one may be done to obtain desired results. As for the recovery period, it should be about 2 to 4 days.
Risks to Take Into Consideration
There are many benefits that one can expect from undergoing plastic surgery, but some risks should must also be considered. Before you decide to visit your surgeon, be sure to ask a few important questions first including precautions, how the procedure is done and things to avoid for a more efficient recovery.
Some of the risks that come with breast augmentation surgery are the following:Anesthesia issues
Scarring
Leakage of implants
Infections and bleeding
Scar tissue formation around the breast implant
Severe pain
Accumulation of fluid
Wrinkling of skin over the implants
In some cases, there may be a need to undergo replacement of implants, although this depends on the condition of the patient. The Institute of Medicine has undergone several studies that disprove assumptions on developing autoimmune conditions due to breast implants. Yet, the most important thing for you to consider before you go through this process is the proper selection of an experienced and qualified surgeon who can give you the results you want.
Final Word – Breast Implant Surgery in Singapore is safe and affordable.
Cost Of Undergoing Breast Augmentation
The treatment process may cost between $8,000 and $15,000, and it all depends on the surgeon and clinic where you go through this surgical procedure. Also, the more experienced the surgeon is, the higher the fee. Furthermore, the fee for surgery may be divided into a few factors including professional fee for the surgeon, anesthesia, medical tests, consultation, facility where the procedure is performed, prescriptions/ after-care medications, and post-surgery garments.
In the end, your satisfaction is still the most important thing to keep in mind. So, be sure to consult only a board-certified and experienced surgeon to get the results worth your time and money.
Unhappy with the size or the shape of how your breasts looks like? Wish you would have bigger breasts to look physically appealing? Breast Implants would be the right choice for you! Completely safe and natural!
Always wanted that fuller breasts, with nicer shape and volume to it? Want to feel more confidence and regain your self-esteem when you step out of your house? Our reputable plastic surgeons are here to restore that confidence that you always wanted! Desired results guaranteed!
Having enormous breasts due to weight gains, pregnancy or even genetics? Sometimes it isn't a good thing to have bigger breasts as it will get in the way while exercising, or it might bring about some unwanted attention. Worry no more, as our professional plastic surgeons are here to resolve this!